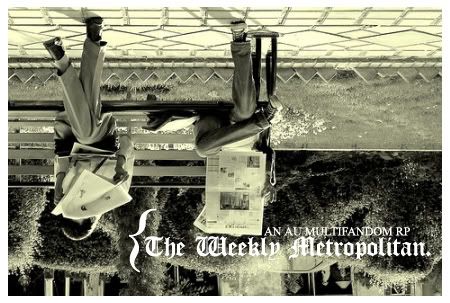 THE WEEKLY METROPOLITAN < < <
Welcome to The Weekly Metropolitan, a multi-fandom, AU roleplay. What's with this place, you ask? Your character now lives in the prosperous and creatively named city of Metropolis and has decided to get a job in the journalism business. This is the office of love, fluff, drama, and violence etcetera, all rolled into one. Your objective? Get the paper out every week.

Plop your character in the midst of a hellish workplace, and they'll end up praying for mercy during the ungodly hours of Saturday night, praying for the holy Sunday morning to come and for those bicycle-riding kids to take your stuff and throw hundreds (maybe even thousands) of copies of your hard work into the driveways of sleeping civilians. During your (few-ish) off hours, you're free to explore the city and take advantage of the many things it has to offer. Welcome to the Weekly Met.

For more information on the premise & its workings, click here.

QUICK LINKS < < <
weeklypaper_rp;
weeklypaper_ooc
RULES; PREMISE; FAQs; TAKEN; RESERVED; APPLY
FRIEND ADD/REMOVE*; EVENT CALENDAR*; HIATUS; DROPPING
*f-locked.









I'd love to RP a little RyuMim, if anyone's interested. :D